Our summer reading program is happening right now. We are not able to have our usual shows and in-person programming but we still want your kids to read this summer!
Let us know if you want to sign up – we will track the number of books your kids read this summer and for every 10 books, your kids will receive a small prize!

Here is our offer:

 My First Book Club To participate, pick up a blank book from the library and fill it with your story! Re-imagine a fairy tale, tell a quest, write a graphic novel, illustrate a wordless book, tell your autobiography – the possibilities are endless! Once you are finished, bring the book back to the library and we will read it (with your permission we will share it with our fans here on Facebook)! Your book will be returned to you at the completion of the program. We look forward to hearing your story!

 Read to an Animal  Every Tuesday night until August 11th at 7:00 pm on our Facebook page. Each week, you will meet a different animal, learn about a book they might be in, and then practice reading out loud to that animal! We hope you can join us!

Story Time – every Thursday morning at 10 am, tune in to our Facebook page to see Rachel and Jessica reading stories, singing songs, playing puppet theater, and preparing crafts for you. Every Thursday you can find all material needed for your craft outside the library ready to pick up. Grab some to make a new project every week at home.
Sumner voting
challenge
  – 
We started this year by introducing new kid's reading challenge – voting for your favorite character/item. We had narwhal versus unicorn ( narwhal won!), basketball versus baseball ( basketball won!) and then we had to close the library. We are back and so is our challenge. In July you got to choose between sloth a llama! We got plenty of books to choose from and our voting balls ready! If you prefer you can let us know what llama or sloth books you read and vote online (Facebook or e-mail)
We can't wait to see who is your favorite!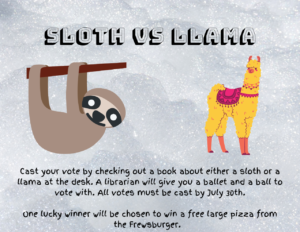 Sign up on READsquared – 
to help track your summer reading! You can create a family account or individual account to track your reading. Choose your avatar, earn mini games, badges and certificates for reading. Teens and adults can join in the fun too and leave book reviews to help others at Myers Memorial Library know about what great books they could be reading! Sign up at:
http://myerslibraryny14.readsquared.com/
SUMMER READING PROGRAM 2020